Lab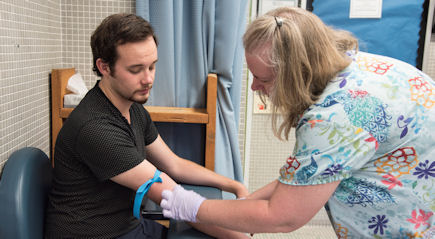 Our laboratory is accredited by CMS*, staffed by medical laboratory technologists, and equipped to provide most diagnostic procedures. All tests require a clinician's order.
The award is achieved by those laboratories found to be compliant with all COLA* essential and required criteria at the time of their on-site accreditation survey, which is performed every two years. Accreditation is given only to laboratories that apply rigid standards of quality in day-to-day operations, demonstrate continued accuracy, and pass a rigorous on-site laboratory survey.
* Accreditation Certificate posted in Lab
Lab Services
Appointments are not needed except for STI Testing Tuesdays (Gonorrhea & Chlamydia).
In-house laboratory tests including complete blood count, urinalysis, mononucleosis, pregnancy testing, Rapid Strep, Rapid Flu and other testing
Reference laboratory tests
Phlebotomy
Urine Drug Screens & Immunization Testing for UNM Health Sciences Center students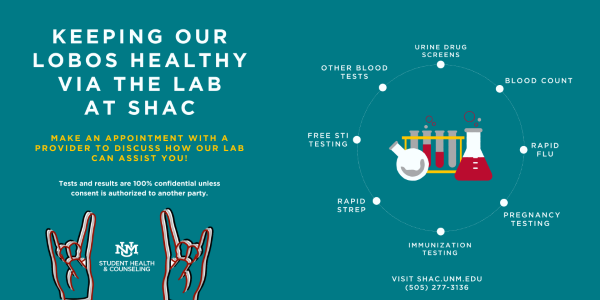 Fasting Instructions
If your clinician asks you to fast before having your blood drawn, do not eat or drink for 10-12 hours. You may have non-flavored water only.
Laboratory Test Results
Normal Results / Secure Messaging
All lab results from UNM Student Health & Counseling (SHAC) contain Private Health Information (PHI) and will be sent via Health e-Messenger to the student's UNM e-mail address.
Unless you tell us otherwise, your test results will be sent electronically via SECURE MESSAGING. Students will receive an e-mail at their UNM e-mail address, which will direct them to the UNM SHAC Health Portal. Students will need to register at the SHAC Health Portal to receive a log-in and password. This is separate from other University accounts.
If you have not received a message at your UNM email account within two weeks, please call 505-277-7945 to request a copy of your test results.  We are not permitted to transmit HIV results electronically.
Abnormal or Unexpected Results 
When the results of laboratory tests are abnormal or unexpected, SHAC makes every effort to contact patients with the information and provides follow-up advice and instructions: 
Results may be sent via Secure Electronic Messaging or by phone
Results may be called to a student's phone by the clinician
Please contact your provider through secure messaging if you have not heard back.
See also: