Surgeon General Meets With State Health Leaders
July 20, 2021
U.S. Surgeon General Vivek Murthy and Gov. Michelle Lujan Grisham met with health care heroes from across New Mexico on July 13, 2021, to celebrate the state's success in suppressing COVID-19.
SHAC would like to congratulate UNM student Chris Naranjo for being chosen as one of four youth leaders statewide to meet with the Governor and the US Surgeon General about their pandemic experience, their resilience, and youth vaccine outreach.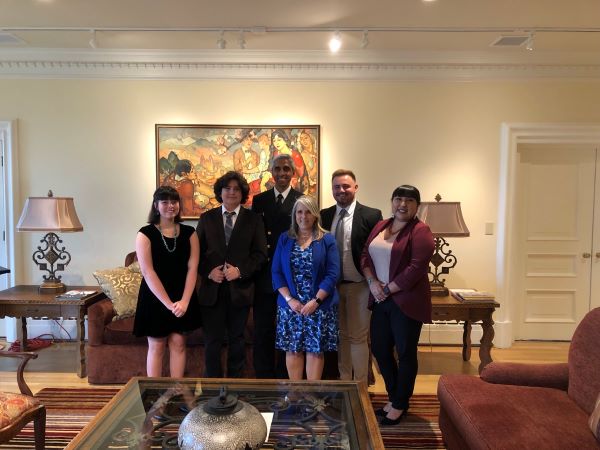 Vivek Murthy and Chris Naranjo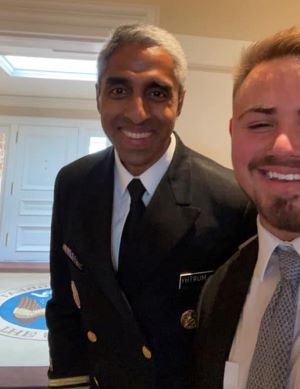 In this meeting, Chris Naranjo was able to speak about his work in SHAC Health Promotion, the Lobo Prevention Pack, and being the President of the Student Health Leadership Council. He represented not only SHAC but UNM in its entirety, too.
NM Health Care Leaders and Workers
At a ceremony at the New Mexico History Museum, Dr. Murthy spoke about the tireless efforts of New Mexico health care leaders and workers over the course of the pandemic, crediting and thanking New Mexico providers and nurses and more for saving countless lives and congratulating the Governor as well as other officials for their efforts to protect the state, region and country.
Eight New Mexico healthcare workers, including several from The University of New Mexico, participated in a roundtable discussion with U.S. Surgeon General Vivek Murthy and Governor Michelle Lujan Grisham, where they reflected on their experiences dealing with the pandemic, and were honored by proclamation for going "above and beyond to protect New Mexicans."
For more information, see Office of the Governor - Press Release (July 13, 2021).