Leah Adent Is Awarded 2019 Student Employee of the Year
May 3, 2019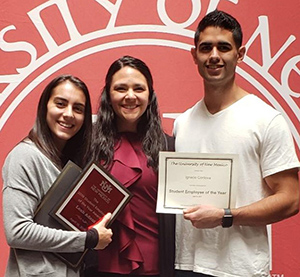 SHAC Student Employees Leah Adent and Ignacio Cordova were nominated for the UNM Student Employee of the Year Award. They were both recognized at an awards ceremony held on Thursday, April 18, 2019 at the SUB Atrium.
A photo taken at the ceremony includes Leah Adent, Tiffany Martinez-Durant (SHAC Health Promotion Manager), and Ignacio Cordova.
SHAC is proud to announce that Leah Adent was chosen as the 2019 UNM Student Employee of the Year. She was also chosen as the State of New Mexico Student Employee of the Year and will be heading to regionals!
Leah Adent was photographed with Eliseo Torres, Vice President of Student Affairs: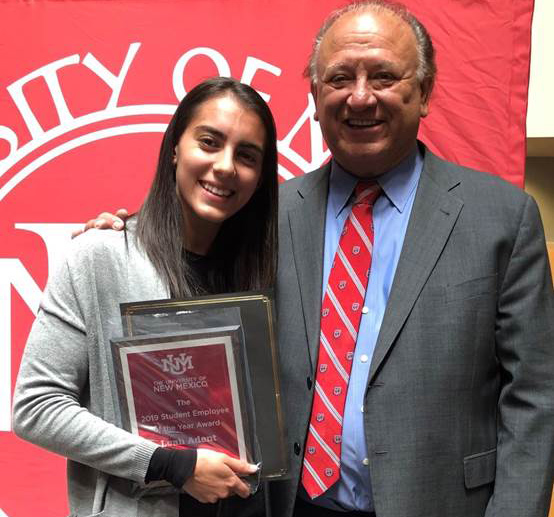 SHAC Health Promotion Manager, Tiffany Martinez-Durant nominated Leah for this award. Below are excerpts from the nomination letter:
Job Title & Description
Leah Adent, a Program Assistant for the Health Promotion department at SHAC, maintains all sexual health prevention programs across campus, fulfills outreach requests, and assists with health education for UNM campus. She is the first peer line of health communication at New Student Orientation for all new students coming into the University and is the outreach chair and advocate for campus wellness and student health through our Student Health Leadership Council.
Attributes
Leah is by far the most well rounded student employee that I have ever had the pleasure of supervising. She is determined, energized, and driven in making UNM a healthier place for all UNM students, staff, and faculty. Her reliability shows through in each and every action that she puts forth, whether it be helping a student who may need step by step assistance inside our clinic to assisting the entire SHAC team in implementing a program or event, we all know that we can always count on her to be there and put her best foot forward. Being a small department, I count on Leah to be my 2nd in command when things need to get done. Leah is not afraid to jump in head first and embrace the opportunity. When giving Leah a task to complete, it is completed before the deadline and to the best of her ability. Her quality of work is at a professional level and continues to blow me away. This past summer, Leah worked on an informal needs assessment of the health related risk and protective factors that students at both our sister schools and nationwide are partaking in. She compiled data, research and journal articles, prevention programs, and put together a cost analysis of what implementing a similar evaluation on our campus would look like. She went above and beyond to look at what our sister schools are doing to combat negative health impacts on their campuses and continued to build on top of that for our own campus population. With the information she found, she continues to advocate for more health promotion to anyone who will listen to her. She has presented this information to faculty, staff, and students on our campus, contributing to our department in words that cannot be expressed. As Leah continues her work at SHAC, she takes it up on herself to find new and innovative ways to create prevention content for our students, always keeping her fellow Lobo's health at the forefront.
Expectations
Going above and beyond is second nature to Leah. There is never a time that she does not think of what more she can be doing to assist others. Leah is a very detailed oriented and organized person and always lends her talents to co-workers. When a co-worker needed help organizing her office and drawers, Leah leaped at assisting her co-worker. When she sees that others are struggling, whether it be to meet deadlines, make deliveries, and/or simply to decorate for the winter holidays, Leah lends a helping hand. She is not afraid to get her hands dirty and will always be there for others when they are in need. As mentioned before, Leah also genuinely cares for her peers and the health of our campus. She will gather members of SHLC and other students across campus to help in the fight of making our campus a better place to be. She takes it upon herself to put together events that I have not planned, but she sees as needed to better address the mental health strain that our students face. She creates spreadsheets, handouts, and other data collecting tools that only make our jobs in health promotion easier. When working with our Condom-Mint sexual health program, she looks for ways in which to reach a greater audience. She contacts other department and asks if they would be willing to assist in our endeavors and works with other UNM staff to increase awareness of what this program does. While Leah is not asked to do any of this, she decides that it needs to be done and always takes it upon herself to see it through.
Leadership/Style
While Leah has only worked for SHAC for almost a year, her leadership skills are something we value most. As mentioned above, when I am not in the office I look to Leah to be my 2nd in command. Leah knows what needs to be done and how to do it without being told what to do. She is great with her peers in leading them through event set up, program implementation, and routine office tasks. She frequently takes the lead when presenting at bigger events such as New Student Orientation and is our lead peer educator for many of our educational programs. Leah is exceptional at assisting in other tasks around the office and always takes the initiative to ensure that projects are completed to the best of their ability. She is great at following up with what she has done and what she plans to do next and is always willing to take constructive criticism. While Leah knows her strong suits, she is also aware of her downfalls as well and takes the time to work on them. True skills of a great leader. She is amazing at leading other students in health education outreach events for the Student Health Leadership as well and is more likely than not to take the lead for the entire event, start to finish. Having Leah take on such leadership roles has assisted me as her supervisor as I myself wear multiple hats, leaving me little time to manage my students' work. The quality of her work and leadership is entirely appreciated and has changed the way our department is able to run. Hiring capable students who are able to learn and then apply that learning to leading others, is a supervisors dream, luckily it's my reality.
Impact
Leah has done nothing but make an impact on all that she comes into contact with. As mentioned time and time again in this nomination form, Leah is committed to educating the students of UNM on how to lead a healthier life, devoted to assisting others, and dedicated to her work. Whether it be her presenting to new students during orientation, distributing safe sex packets across campus, or putting together decompression stations for students to find peace in the madness of college, Leah leaves a lasting positive impact on her peers. She takes the time out her day to ensure that her coworkers have someone who makes them feel like they are not alone and is always willing to lend a helping hand, even if it means having to separate and organize over 300 binder clips. Her dedication to her work day in and day out, specifically her role in the needs assessment, has allowed our department access to new opportunities. She has helped up shape the way we communicate with students and is always assisting in helping shift direction of our work to better reach our students. Needless to say, in her short 10 months with SHAC she has made nothing but a positive impact and we are so lucky to have had the privilege in having had her as part of our SHAC team.