Congrats to SHAC HP Fall Graduates
November 27, 2021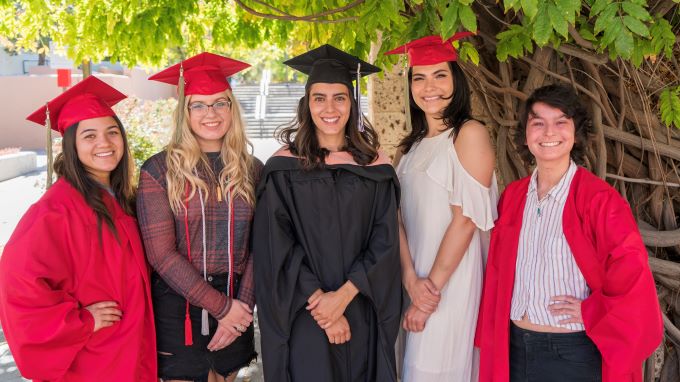 Pictured from left to right: Samantha Sosa - BS, Health Education; Olivia Moss – BS, Health Education; Leah Adent – Master's of Public Health; Lianna Maldonado – BS, Population Health; and Grace Conlin – BS, Health Education
Congratulations to SHAC Health Promotion staff and interns on their college graduation! These wonderful people have given so much of themselves to SHAC's mission, success, and the health of the student population. They've done this amid the pandemic, working hours on end to ensure the holistic health of our students were at the forefront. While most were at home, they stayed strong in their peer advocacy on campus and guidance of students through these tough times! 
A special shout out to Leah Adent for completing her Master's of Public Health from NMSU! She never wavered on her responsibilities at SHAC while attending school and field experience full time. Leah started here as a volunteer and transitioned to a student employee before becoming staff. She has grown up here tremendously, personally, and professionally. We are so lucky to have her as a part of our SHAC team!
While this is a bittersweet moment, SHAC is SO proud of our college graduates! If you see them before they transition out, please congratulate them on their success and amazing contributions to SHAC and UNM!