Study Abroad in Peru: Spanish Language and Peruvian Cuisine
November 16, 2021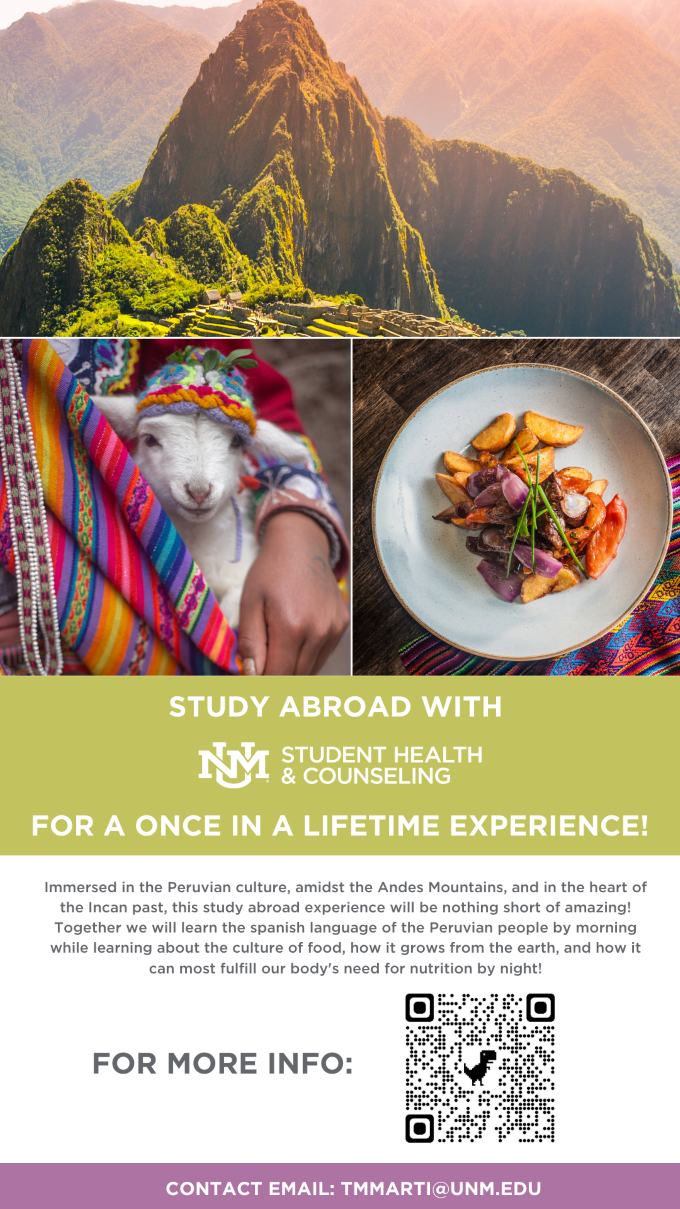 Course Dates:  June 12 through June 29, 2022
Application Deadline: February 7, 2022 
Immersed in the Peruvian culture, amidst the Andes Mountains, and in the heart of the Incan past, this study abroad experience will be nothing short of amazing! Together we will learn the Spanish language of the Peruvian people by morning then indulging into their world renown cuisine by night.
We will travel to see one of the 7 Wonders of the World (Machu Picchu) and travel back in time 1500 years to live among some of Peru's most indigenous tribes (Urus people). While there we will learn about the culture of food, how it grows from the earth, and how it can most fulfill our body's need for nutrition.

Starting in Cusco, students will meet the host families in which they will reside with. They will welcome you into their homes as one of their own, so you are fully engulfed in the culture and the language. You will have breakfast with your host family before starting your Spanish Language courses. Before the adventures begin in the afternoon, you will head back to your host family for lunch, as that is the largest meal of the day in Peru. Post lunch, students will then meet back up for an enriched hands on learning and cultural experience. From traveling to Inca Ruins, to visiting local markets, eating local fusion, or 5 star cuisine (yes, we will be eating a lot!), your experience will be one for the books. That's not all!  We will be giving back to the local people who have given us the opportunity to visit their home through different service projects, too! Before flying back home, we will travel from Cusco to the city of Puno where our last adventure will begin. Here we will visit Lake Titicaca and Taquile Island witnessing what life is like among the Urus people. We will end our journey trekking to the mountain tops to watch the sunset and abid our journey in Peru goodbye.
This program offers 3 credits of Spanish language. These are transfer credits to UNM and the level will depend on the level you test into. Program staff will assist with this.
For more information: