Student to Student - Healthy Eating Habits and More
September 20, 2022 - Analissa Gutierrez
Hey there Lobos!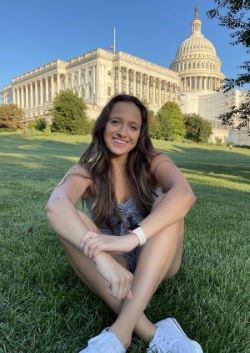 My name is Analissa Gutierrez (she/her pronouns). I am the newest member of the SHAC Health Promotion Team and the Lobo Prevention Pack, as Population Health Intern.  I am currently a senior at the University of New Mexico!  I am looking forward to promoting healthy living on campus and educating students about SHAC services! 
I am pursuing a Bachelor of Science degree in Population Health, with Minors in Chemistry and Biology, including a Honors designation.  During my time at UNM, I have made connections with many organizations within the community as a Hispanic Women's Council Scholar, Office of Diversity, Equity and Inclusion Ambassador, LoboTHON Events Coordinator, Emerging Lobo Leader, UNM Clinical Education Representative and now as a member of your Lobo Prevention Pack and the Secretary for the Student Health Leadership Council.  These experiences have opened my eyes when discussing cultural awareness and the importance of equal opportunities in health for all UNM students.
New Mexicans are authentic, traditional and hardworking, all characteristics of a unique culture that I am proud to call my own. I feel a calling to serve the New Mexican community that raised me to become the woman I am today. With this being said, my goal is to advocate for YOU!  I will work to ensure that UNM student health interests are taken into account when developing health related programs at the UNM SHAC and throughout the university so that all students have access to thorough and accessible medical care. 
In addition to working as a student advocate, I will be studying eating habits and access to healthy food options for UNM college students. Through focus groups, surveys, and interviews, my goal is to capture UNM students' current state of knowledge of food resources as well as successes and challenges related to implementing healthy food options at the University of New Mexico. 
I am thrilled to be a part of the Health Promotion team, which prioritizes public health and implements primary prevention for the benefit of the UNM student body! Please let me know how my efforts in the Health Promotion office can be of service to you. I look forward to seeing you at upcoming SHAC events this semester!  Stay safe Lobos!