TAO: Self-Help for Stress, Anxiety and Depression
November 8, 2018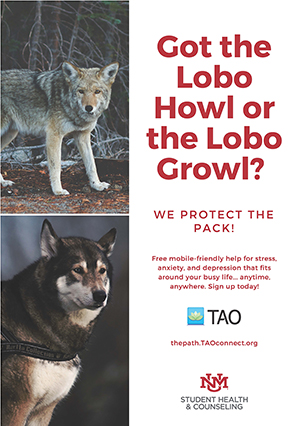 Welcome to your UNM Therapy Assistance Online (TAO)! TAO offers free, mobile friendly help for stress, anxiety and depression. TAO fits around your busy life--anytime, anywhere.
This tool is used to meet our Lobos skill development and educational needs in well-being and behavioral health. It can be used to provide self-help on issues like mindfulness, communication, problem solving, and much more! Interested in building resilience within yourself? Need a little stress management guidance? Then look no further, Lobos. We are here to help!
How To Instructions
Click on SHAC Self-Help Tools. Then click on Therapy Assistance Online (TAO).

Select "Sign Me Up in Self-Help."

Enter your information.

Read and approve consent form.
Confirm your account through your e-mail.
Go back to the TAO website and login with your e-mail and password.
You are on your way to hacking a new set of skills!
Questions? Call SHAC TAO Admin at (505) 277-1277.