James Shrum: SHAC Associate Director of Operations
February 9, 2023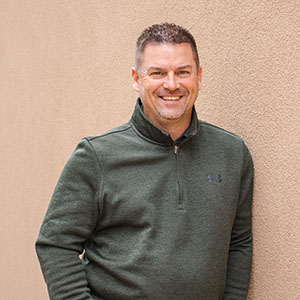 UNM SHAC would like to welcome James R. Shrum as its new Associate Director of Operations.
Jim "Shrummy" Shrum was formerly the Manager of Administrative Operations in the UNM School of Medicine's Office of Education. Jim oversaw all facets of the Office of Education and advised the Senior Associate Dean on critical issues affecting operations, finances, human resources (HR), morale, and readiness of the Office of Education personnel.
Jim is a retired United States Air Force (USAF) Senior Master Sergeant. Jim entered the USAF in May 1993, and was assigned to multiple locations including: San Antonio, TX; Biloxi, MS; Tacoma, WA; Puerto De Santa Maria, Spain; Terceira Island, Portugal; Albuquerque, NM. Jim also performed temporary assignments including: Rhineland-Palatinate, Germany; Sigonella, Italy; Friuli-Venezia Giulia, Italy; Souda Bay, Crete, Greece: Suffolk, England; Bishkek, Kyrgyzstan; Doha, Qatar.
Jim's USAF career started as an Aircraft Avionics Technician working on C-141B, C-5, C-17 and C-130 aircraft. Jim later took a position as a Budget Analyst, executing assigned budget and funding tasks for 11 accounts valued at $67M for a unit of 375 personnel. In Addition, Jim served 3 years as a First Sergeant. As the principle advisor to the commander on all personnel matters, he was responsible for the professionalism, health, welfare, safety, morale and discipline for five units, including assignments overseas and in deployed locations. His efforts and mentorship contributed to 2.2K students graduating, the movement of 57K troops &14.7K tons of cargo and supported 500 deployed members advancing operations for 80 multi-national aircraft.
Jim finished his Air Force career as a Department Administrator (DA). During his time as the Engine Shop DA, he directed the Department of Defense's only UH-1N Helicopter, and the USAF's only HH-60 Helicopter engine test facilities valued at $18M. During his tenure, the Engine Shop overhauled over 400 engines worth $315M and supported 12 worldwide bases including "Marine 1" Presidential support. 
Using servant leader principles, Jim led the cultural transformation of the Engine Shop by focusing on personnel development and problem resolution education. The subsequent positive employee behaviors and dedication reduced Quality Assurance inspection failures by 62%.
Jim began his career with UNM on August 18, 2014, as a HR Consultant in the Division of HR. Jim led HR Consultant teams supporting the UNM Health Sciences Center (HSC), and UNM Academic Affairs. Jim was responsible for the advice and training to over 300 departments and 2800 personnel on policies and regulations to include the Family Medical Leave Act, Fair Labor Standards Act, Americans with Disabilities Act, best employment practices, compensation, and performance management. Jim also led several HR projects, to include modifying multiple HR forms into PDF format enabling digital signatures and more efficient e-mail routing.
Jim has an MBA from the University of Phoenix. He graduated in 2014, with a 4.0 GPA, was recognized as the Honored Student, and gave the commencement speech to over 500 people.
Jim and his family live in Rio Rancho, NM, and own property in Truth or Consequences, NM. Jim spends most of his free time with family, golfing and boating.