Lianna Maldonado: Training and Support Analyst
May 4, 2023 - Lianna Maldonado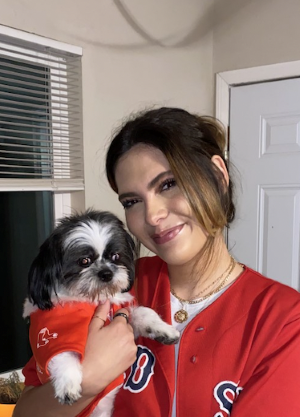 Hi there 'Bos! Let me introduce myself as the newest member of the Health Promotion team here at SHAC. My name is Lianna Maldonado and I am your new marketing representative! Although I am new to this position, I am in no way new to UNM or even to Health Promotion! I graduated from UNM in 2021 with my degree in Population Health and a minor in Political Science. During my last semester here, I worked as an intern for Health Promotion and thoroughly enjoyed doing community outreach and health education. The experience I had then shifted my career focus, and here I am a year later! Before I joined SHAC, I worked as a Health Educator, but found myself missing the campus environment and working with students. UNM has been such a turning point for me in my life journey, and I am so beyond honored to return to my roots and to be a part of the pack again!
I am originally from Farmington, New Mexico and I have lived in Albuquerque for 6 years! I consider myself a true New Mexican and I love our state, our chile, and our sunsets. In my free time, I love to golf (even though I am not great), watch football, and walk my dog (son) Milo. My worst habit is I will show anybody and everybody photos of him doing absolutely nothing unprovoked!
My passion in life is to help communities pursue knowledge of healthy habits and behaviors that can promote wellness. I think college was such a pivotal time for me where I discovered so much about myself and the world around me. There's so many changes happening during college and that is why it is so important for me to give students the tools they need to increase knowledge of ways to help physical, mental, and emotional wellbeing. You are in such a transformative period of your life, and that can be extremely scary, but also so exciting!
As you are finishing this semester, make sure to take a moment to pat yourself on the back no matter what your next chapter is. Just know, that the Health Promotion team at SHAC is always here for anything you may need. We want to see you succeed and we want you to take care of yourself. That is most important to us! I am so incredibly excited to be back on campus, and I can't wait to see what the next semester holds for you all!
If you see me around, don't hesitate to say hi! I may ask you to be in some of our TikToks!
Have a wonderful summer and it's so great to meet you!
Sincerely,
Lianna Maldonado