Recommended Immunizations
UNM SHAC Recommendations for Prematriculation Immunizations
Based on the American College Health Association (ACHA) and the Advisory Committee on Immunization Practices (ACIP) Recommendations 1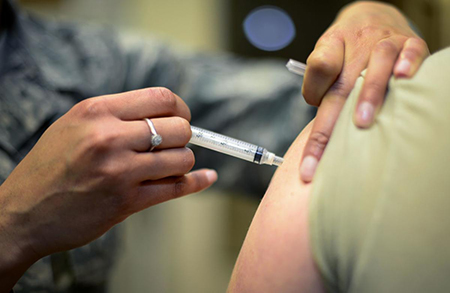 UNM SHAC strongly supports the use of immunizations to protect the health of our student population.
SHAC recommendations are broken down into several categories. (See table below.) Category A and A1 vaccines take priority because the diseases they protect against are highly contagious and have the potential to cause severe illness.
Please note that many students may have received some or all of the recommended vaccines listed below. It is important to therefore keep a record of all previous vaccinations. In the state of New Mexico all students attending public school are required to have certain vaccines in order to attend school. This is true for many states throughout the country. We suggest that UNM students locate and keep record of all previous vaccines that they have received as well as maintain records of all the other vaccines they will receive throughout their lives.
See also:
Immunization Categories

Category A (Priority)

Measles, Mumps, Rubella (MMR)

Meningococcal (Men serogroups A, C, W and Y)

Varicella (Var)

Category B

Hepatitis B (HepB)

Hepatitis A (HepA)

Human Papilloma Virus (HPV)

Category C
(indicated under special conditions)

Pneumococcal (Conjugate and Polysaccharide)

Meningococcal (serogroup B)

 

Category A1

Tetanus, Diphtheria, Pertussis (Tdap)

Influenza

 Category D (Vaccines that are region-specific to International Travel)

Typhoid

Yellow Fever

Japanese Encephalitis

Rabies
Questions About SHAC's Vaccine Recommendations
Students who have questions about vaccine recommendations or who would like to have their records reviewed by a SHAC provider are encouraged to do the following:
For questions about immunizations, please call the SHAC Allergy and Immunization Clinic to speak with a Registered Nurse (RN). 505-277-7925


For an appointment to have immunization records reviewed or to make an appointment for vaccine administration, please call SHAC Reception to schedule an appointment with the Allergy and Immunization clinic.  505-277-3136
Please see also:
---
1American College Health Association (ACHA) (Feb. 2021). Immunization Recommendations for College Students
Centers for Disease Control and Prevention (CDC) Advisory Committee on Immunization Practices (ACIP).  MMWR (28 January 2011). General Recommendations on Immunization CDC ACIP Recommended Adult Immunization Schedule United States 2020
2American College Health Association (ACHA) (Feb. 2021).  Tuberculosis Screening and Targeted Testing of College and University Students