Coronavirus Information for Students
UNM is closely monitoring the emerging global public health concern related to the novel coronavirus (COVID-19) through trusted authorities including the Centers for Disease Control and Prevention (CDC), U.S. Department of State, World Health Organization, New Mexico Department of Health and UNM Health Sciences. 
Please know as SHAC follows federal and state mandates, we are incorporating social distancing in our clinic as well. Continue to check back on this page and on our social media platforms for updates.
UNM's Coronavirus Website is a great link to find out useful information on updates, resources, and prevention.
See also:
COVID-19 Vaccine
To register to receive the vaccine, go to the NM Department of Health (NMDOH) COVID-19 Vaccine Registration System. When vaccine is available, NMDOH will send you a notification to schedule your appointment.
Lobos, we ask that you be completely honest when filling out your vaccine registration. This will ensure that all students will be put into the queue properly. If your BMI falls within range that can be considered a predisposing condition, please complete that section of the registration truthfully. Young adults (18-24) who've contracted COVID-19 and were hospitalized, normally had a higher BMI range. 
See also UNM Bringing Back the Pack - COVID-19 Vaccine Information for the UNM Community.
Are you hesitant about the Vaccine?
Now that the COVID-19 vaccine is here many of you may be excited and eager to receive it, while others may be reluctant. For those of you who are hesitant, you may be experiencing mistrust, fear, and concern with so many outlets providing information to you and your loved ones. SHAC Health Promotion can help guide you:
Letter to Lobo Pack re: COVID Vaccine
What do I do once I am vaccinated?
After vaccination you will be given information to participate in the Centers for Disease Control (CDC) v-safe health checker. This smartphone-based tool utilizes text messaging to track any side effects you may get. Depending on your answers, someone from the CDC may contact you. SHAC highly recommends that you sign up for and participate in this system. For more information, click here.
Close Contact Exposure: What do I do?
Information about COVID-19 can feel overwhelming. We are all faced with considering new ways of interacting with our world and each other (washing hands frequently, mask use, maintaining recommended physical distance, among many others). By now, you may know someone who has been touched by this disease. You may wonder what to do if you discover that someone you know or someone you may have been in close contact with has tested positive for COVID-19. The first thing to do is stay calm and get more information. Your vulnerability to being exposed depends on when your friend, colleague, or acquaintance, became ill, and when, how long and under what circumstances you were in contact with them. 
What is considered a close contact or exposure?
A close contact is defined as being:
within six (6) feet of a person with COVID-19 for three (3) minutes without a mask or ten (10) minutes with a mask;

OR


having exposure to the person's respiratory secretions (for example, coughed or sneezed on; kissing or hugging; or having shared a drinking glass or utensils) while the person was contagious.
A person with COVID-19 is considered to be contagious starting from 2 days before they became sick, or 2 days before they have tested positive if they never had symptoms. Most individuals are considered to be infectious for 10 days from the time of their symptom onset or positive testing and are asked to physically isolate from others.
What should I do if I meet the criteria of a having an exposure or close contact?
Begin to quarantine, which means staying at home unless you need medical care (usually 14 days without testing).
Begin to monitor yourself for flu-like symptoms (cough, fever, shortness of breath, chills, body aches).
Call UNM Student Health & Counseling and connect with the COVID-19-line provider, by calling (505) 277-3136 and selecting option #7. You may also call the New Mexico Department of Health Hotline, 1-855-600-3453.
The provider will help advise you on whether you currently qualify for testing, provide you with information on quarantine and other medical advice, and answer your questions.
Please use the chart below to decipher your symptoms.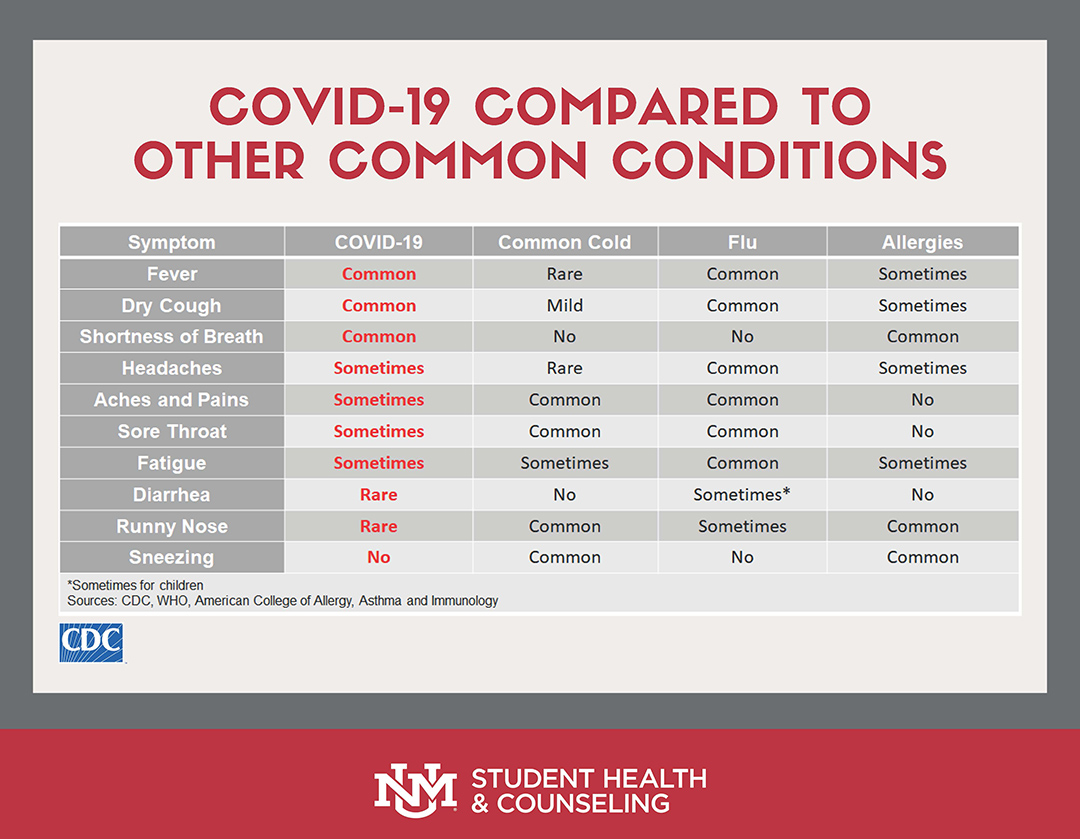 Recommendations for People With Respiratory Symptoms
UNM Students:
Call SHAC at (505) 277-3136 before coming to the clinic and/or to schedule an appointment.  Identify your symptoms to staff before visiting the clinic (e.g., fever, cough, runny nose).
After SHAC Hours of Operation: Call SHAC after hours at at 277-3136; select option #2. You will reach an answering service. The answering service will page a SHAC medical provider who is available for medical problems that can be addressed over the telephone.
Students, Faculty and Staff who have not received the flu vaccine yet should check with their local pharmacy or doctor's office to receive the vaccine.
 Social Distancing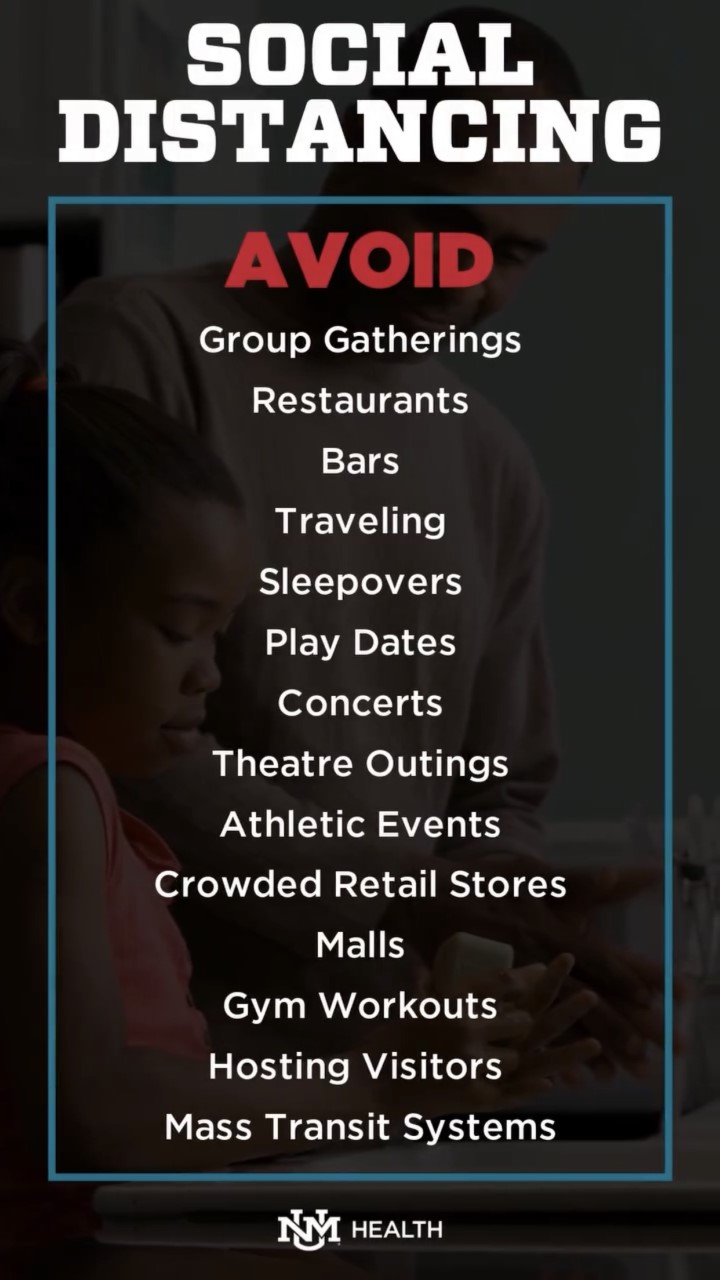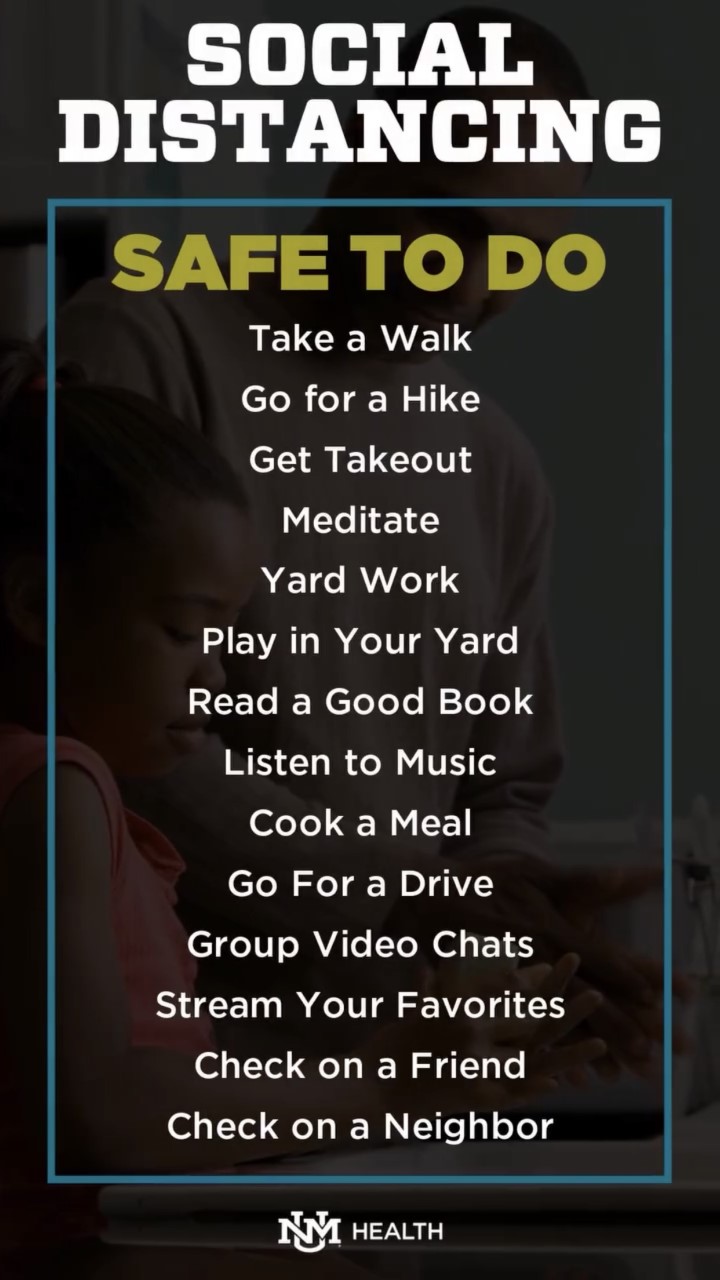 See also:
Managing Fears and Anxiety Around Coronavirus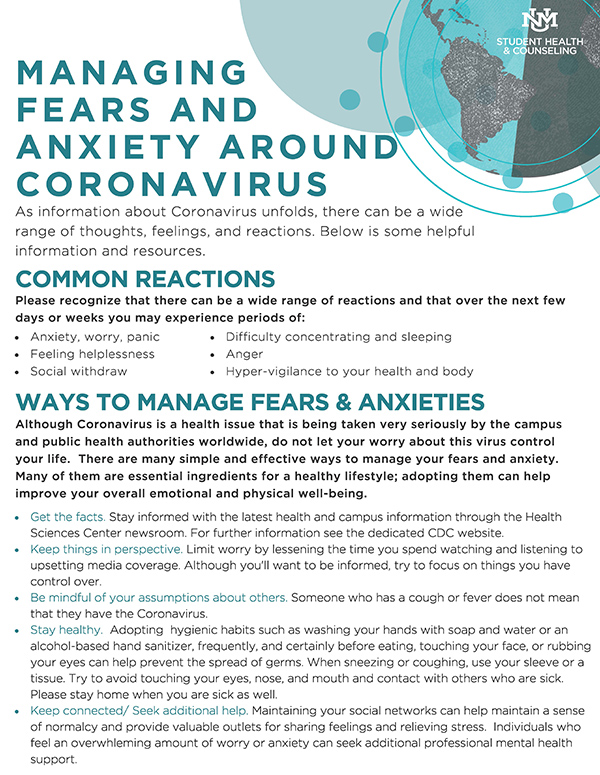 A Message from Therapy Assistance Online (TAO)
In response to the COVID-19 outbreak, many people are struggling with worry and anxiety. To help everyone cope, we are making mindfulness exercises available to those in need through this difficult time.


For more information about your UNM TAO, click here.
Coronavirus - Prevention
Stop the Spread of Germs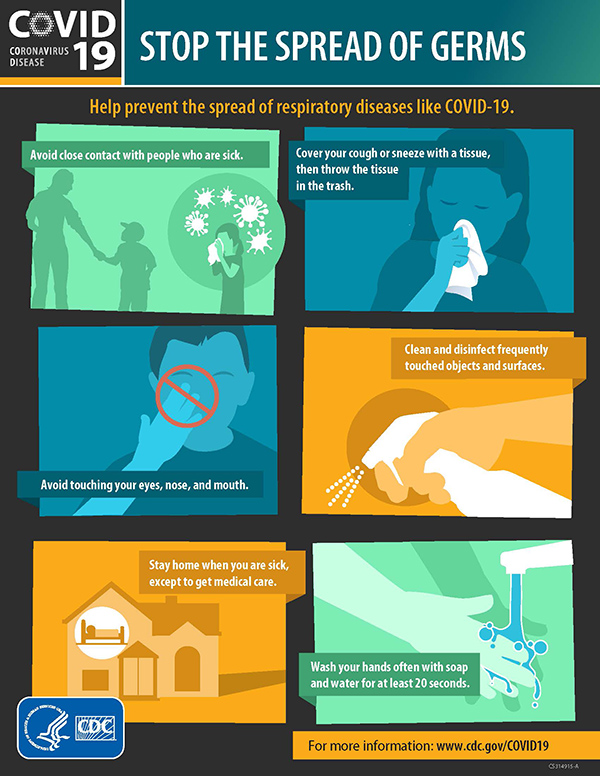 Life Is Better With Clean Hands
How to Cough Without Infecting Others Video