Travel Health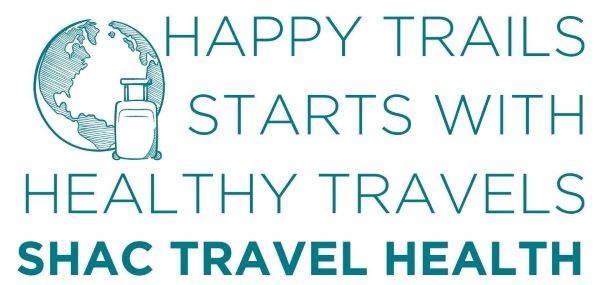 SHAC Travel Health services are by appointment only.  Appointments are approximately one hour and are in high demand during peak travel seasons (prior to Spring Break, Winter Break, and the Summer Session). 
Eligibility
International Travel Immunizations and Consultations are available to all UNM students, staff and faculty.  We recommend that you plan on booking your travel appointment at least 4-6 weeks prior to your planned departure.
Our comprehensive travel consultations include:
A printed report specific to your travel destination that contains information on any travel advisories and other relevant country-specific information (e.g., high altitude preparation, disease outbreaks, civil disturbances, etc);
Immunization record review and immunizations;
Prescriptions for anti-malarial medication and treatment of Traveler's Diarrhea.
Travel Appointments & Information
Please call (505) 277-3136 for an appointment. A receptionist will collect information on your destination and date of departure, and a nurse will call you back to schedule your travel appointment.
For information, please call (505) 277-7925 to speak with an Allergy & Immunization/Travel Nurse.
Travel Consultation Visit Fee
UNM Faculty / Staff = $50 -- regardless of travel purpose (UNM-sponsored trip or not). Payment will be due at the time of service.

SHAC cannot file for insurance for non-students for the Travel Consultation Visit Fee

OR

for immunization costs.

Non-students can submit a receipt to their insurance carrier for reimbursement.


UNM Students:

Travel appointments are $15. Insurance pays for most vaccines, but not all. For those without insurance; or insurance we don't take; or vaccines not covered by your insurance; a self-pay rate will apply.



Immunization Costs
Costs vary and are not included in the consultation fee.  Costs for UNM students are dependent upon their medical and prescription insurance. For information, call the Allergy & Immunization/ Travel Clinic at (505) 277-7925.
Please note: Appointments for travel-related illness or travel physicals should be made with your primary care or SHAC provider. The Travel Clinic sees patients specifically to discuss pre-travel topics such as immunizations, prophylactic medications, and other health-related concerns related to the planned trip. No physicals are provided at the visit.
RESOURCES
TRAVEL NEWS
Measles - CDC Advisory Video
Since measles is still common in many countries, unvaccinated travelers bring measles to the U.S. and it can spread. Protect yourself, your family, and your community with the measles-mumps-rubella (MMR) vaccine, especially before traveling internationally. For more information, watch the YouTube Video below:
See also: CDC Measles (Rubeola) - For Travelers
Additional Travel News
Centers for Disease Control:
Travel Orientations/Discussions
SHAC health staff can provide a general travel orientation and discussion for your UNM class or group. Contact SHAC at shac@unm.edu to schedule an orientation.