Gerald W. May Outstanding Staff Award Goes to Drs. Stephanie McIver and James Wilterding
December 14, 2021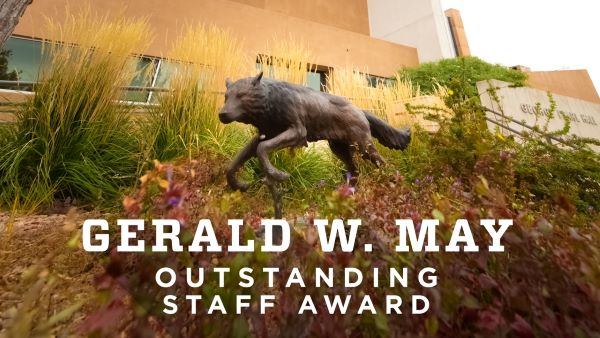 We are happy to announce that two members of the SHAC professional staff are recipients of the 2021 Gerald W. May Outstanding Staff Award:
The Gerald W. May Award honors Lobos who are exemplary staff. The University could not achieve all that it does without its outstanding staff who make significant contributions towards departmental and University-wide goals.
In 1990, UNM President Gerald W. May provided funds to award UNM's outstanding staff members. The Staff Council now uses these funds to recognize staff who have made significant contributions to departments and university-wide goals.
Each fall, staff members are nominated by other staff, faculty, and students at the University. The nominees are then reviewed by the Staff Council Rewards & Recognition Committee and the Staff Council Executive Committee. Finally, the president of the University selects the final winners.
There is a minimum of three awards given out annually. The winners are given a monetary award, plaque, and ceremony. The complete list of 2021 award winners are:
An award ceremony is being held on Dec. 16, 2021 to honor the recipients. The ceremony is being held virtually this year via zoom. It will include a welcome from Staff Council President Scott Sanchez, remarks from UNM President Garnett S. Stokes, and more.