Student to Student - Help People Lead Healthier Lives
February 14, 2023 - Thomas Bond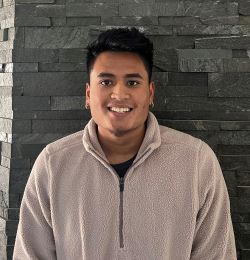 Hello, my name is Thomas Bond and I am a senior majoring in Community Health Education. I plan to graduate fall semester of 2023! A little about me… I moved a bunch of times in my life, but I always have considered Albuquerque, New Mexico, my home. I went to Mendham High School in New Jersey, but after graduating, I decided to bring my talents back to Albuquerque. When arriving back in 2019, I started with a major in nursing, but decided to switch to Community Health Education. I currently work at US Cryotherapy where I enjoy interacting with athletes and other health-minded individuals about health and recovery. In my free time, I like to watch basketball, go to the gym, and take my dog out for walks.
I have always wanted to help people lead healthier lives. In the field of community health, that is what I can do—giving them the knowledge and resources to act and change their lives. Interning at SHAC allows me to reach an audience I might not have been able to. I aim to assist our Health Promotion Team in teaching my peers about creating and promoting healthy habits. Which can be as easy as making your bed every morning, washing your face daily, reading 30 minutes before bed, etc.
In the future, I wish to help those who want to better themselves and lead healthier lives. I don't know where I will be, but I know will be somewhere helping others.