SHAC During COVID
In order to reduce risk for spread of COVID-19, SHAC office visits will be conducted virtually (by secure video or phone) when it is practical and safe to do so.
Please call SHAC at (505) 277-3136 to speak to a medical provider before attempting to visit the clinic. 
Medical and counseling visits will be conducted in-person when needed.
Please note:
If you have symptoms that you think might be due to infection with Coronavirus (SARS-CoV-2), think that you need to be tested for COVID or have concern for an exposure, please call (505) 277-3136 and follow the prompts to speak with a SHAC medical provider. See also Coronavirus Information for Students.


If you are an established patient with a SHAC provider, you can message your provider through your UNM Health Portal to request assistance.
See also Service Modification and Accessing Care below.
SHAC Hours
Mon, Wed, Thu & Fri: 
800 AM-5:00 PM
Tues: 
9:00 AM-5:00 PM
Access building through west entrance only; use walkway for access from parking lot.
A mask is required to enter the building.
SHAC Phone
(505) 277-3136
After-Hours: Medical-Option 2 and Counseling-Option 3
Mobile Check In App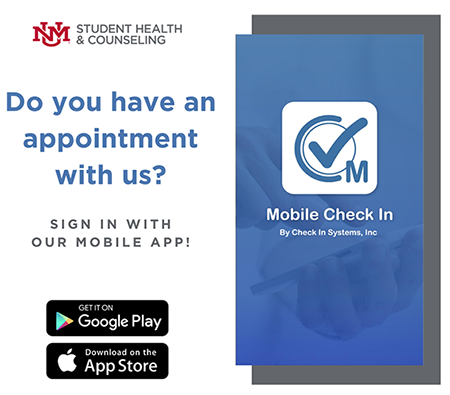 Do you have an appointment with us?
You can now sign in with our touchless, contactless Mobile App.
Download "My Mobile Check In" App:
Service Modification & Accessing Care
Counseling
Visits with counselors will be conducted through telehealth and in person when needed.
Students who need support and do not have an assigned counselor should call (505) 277-3136 to schedule a phone appointment.
Students who have scheduled follow-up appointments should check their secure messages for updates from their counselor.
Students with urgent needs should call (505) 277-3136 to speak with a counselor.
All satellite offices are closed.
For after-hours support, please call (505) 277-3136, and follow the prompts.
Health Promotion
Health Promotion is working remotely; please email peerhelp@unm.edu if you need assistance.
Health Coaching is now by phone/zoom.
Please follow us on social media for wellness activities including Cooking and Workout Tutorials, SHAC Pet Therapy, and Blogs from students for students. For questions about virtual programming, contact Health Promotion at peerhelp@unm.edu.
Lab and X-Ray
Must be referred by a SHAC provider.
No self-directed services are being offered until further notice.

Medical (Including Allergy and Immunization and Physical Therapy)
For all medical concerns please call us first at (505) 277-3136. This will allow us to assess your needs and best direct you. In most cases, we will be able to manage your concerns over the phone through provider phone visits.
You are encouraged to call our COVID-19 hotline at (505) 277-3136 option #7 if you have symptoms of cough, fever, shortness of breath, or if you've had close sustained contact with a known positive COVID-19 case.
For after-hours support, please call (505) 277-3136, and follow the prompts.
Payment
Regular visits, not COVID-19 related, will still be billed as normal. Those who are concerned that they have been exposed or may have COVID-19 should call our clinic as their first line of contact.
Pharmacy
Before visiting the Pharmacy, call: (505) 277-6306, option 0

We will have someone bring your prescription out to you at SHAC's west entrance.

NOTE: Wait times may vary depending upon peak hours of the day (e.g., lunch hour and end of the day).

We appreciate your patience.





If you are in need of a prescription refill only: Please secure message your provider through the SHAC Health Portal to request that refill. 

For birth control pills (oral contraception) only: If your annual prescription is expiring and you have been seen at SHAC, please send a secure message to Kara Stiles, ANP-BC.

All Pharmacy copays are being charged to your UNM Bursar's account, unless given a debit or credit card number over the phone.